We offer online financing through CWB National Leasing

We'll review your application and have a lighting fast decision on your lease. How fast? We'll typically notify your equipment dealer that payment is on its way within 48 hours of your approval.

Leverage your buying power and free up cash with periodic payments rather than one upfront purchase. You can also add extra features or accessories for a small payment increase. Now that's putting the POW in buying power!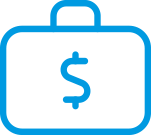 Small payments over the term of your lease means your equipment will start earning you money while you pay it off, making it easy to balance your expense to revenue ratio.
- Office solutions over $3500
- Furniture and other solutions purchased for business use
How does online financing work?
1. Use our online quoting feature or reach out directly to get a quote for your next project
2. Complete a no-obligation online credit application.
3. CWB National Leasing will reach out with a quick credit response.
4. If you choose to finance, upon finalization of your agreement documents, CWB National Leasing will transfer the funds to Simplova and YOU get your new office solution!